UNDER CONSTRUCTION
"That totals 68 people"


What is the True Number of Victims of the Postal Anthrax Attack of 2001?
Tyler C. Cymet, DO, Section Head, Assistant Professor
Gary J. Kerkvliet, MD, Associate Program Director

To the Editor:

The US Centers for Disease Control and Prevention (CDC) counts as victims 22 people who were involved in the postal anthrax attack of 2001. We disagree. As scientists it is difficult to accept that fewer than 68 people were harmed in this event. There is no debate that at least 5 people died from inhalational anthrax, 11 people had cutaneous anthrax develop, and 6 people had diagnosed inhalational anthrax and survived. The debate concerns those individuals at the periphery: 38 people at the Hart Senate Office Building, Washington, DC, and 5 people at the America Media Inc building, Boca Raton, Florida, in whom anthrax was detected by nasal swab. These people were treated with antibiotics for 60 days and offered the anthrax vaccine, which many agreed to receive. Although they were treated like victims, because they did not have symptoms of anthrax, they were never counted as victims of that attack.1

The state of Delaware postal worker who tested positive for anthrax antibodies, but had a rash that appeared different than would be expected from anthrax, therefore was not counted as a victim because the rash was atypical.2 The CDC laboratory technician who had an abrasion while working with anthrax samples from the attack and, subsequently, had cutaneous anthrax develop was not counted as a victim.3 Finally, the US postal inspector in whom "aborted anthrax syndrome" developed after being exposed to large amounts of anthrax and becoming seriously ill was yet another victim not counted in this category.

That totals 68 people.

Bioterrorism affects more people than those who express the worst or classic case of an ensuing illness. Weaponized anthrax is a new illness that is still not understood. If we are to learn from this attack we need to start with an open mind.

Family Medicine Sinai Hospital of Baltimore
Internal Medicine Johns Hopkins School of Medicine Baltimore, Maryland

Sinai Program in General Internal Medicine Johns Hopkins School of Medicine

References
1. Daschle T. Like No Other Time: The Two Years That Changed America. New York, NY: Three Rivers Press of Crown Publishing Group;2004 .

2. Hinant L. Another regional NJ post office is closed after employee develops possible skin anthrax. Newsday. October 31,2001 .

3. Centers for Disease Control and Prevention. Cutaneous anthrax in a laboratory worker—Texas, 2002. MMWR Morb Mortal Wkly Rep. 51:279 -281.

4. Cymet TC, Kerkvliet GJ, Tan JH. Gradon JD. Symptoms associated with anthrax exposure: Suspected "aborted" anthrax. J Am Osteopath Assoc. 2002;102:41 -43.[Abstract/Free Full Text]





Shower of Anthrax
June 07. 2005 12:00AM

After a Shower of Anthrax, an Illness and a Mystery

New York Times

ANNAPOLIS, Md. - During the anthrax mail attacks in 2001, Bill Paliscak, a gung-ho, hockey-playing postal investigator who had missed 3 days of work in 11 years, removed a filthy filter above a mail-sorting machine to preserve it as evidence. Anthrax-laden dust showered down on him.

Four days later he began to feel feverish. Soon he was in intensive care. After spending the next three years in and out of the hospital, Mr. Paliscak, 41, now needs a wheelchair to move about, sleeps with a breathing device to get enough oxygen and takes dozens of pills a day.

His medical bills total more than $800,000, and he has been living in a motel here for more than a year because he cannot reach the shower on the second floor of his home.

Yet Mr. Paliscak (pronounced PAL-uh-sack) remains a medical puzzle. Blood tests never detected the bacteria that cause anthrax or the antibodies the immune system should produce in response. As a result, the federal Centers for Disease Control and Prevention never classified his disease with the 11 confirmed cases of inhalational anthrax, 5 of them fatal.

Mr. Paliscak's nondiagnosis ultimately has had little practical effect, because the Department of Labor agreed in 2002 that his illness was work-related, permitting workers' compensation to cover his medical bills and provide support of about $1,000 a week. But the C.D.C. decision rankles Mr. Paliscak, his family and his doctors.

"It sort of feels like - 'You don't believe me,' " says Mr. Paliscak, rocking in agitation in his wheelchair, his old Postal Inspection Service bag sitting on the floor nearby. "I've dedicated my life to law enforcement and the military. And an agency of the government I was sworn to protect won't accept this. That bothers me."

After consulting with dozens of specialists across the country, his doctors at Sinai Hospital of Baltimore remain convinced that his anthrax exposure produced his disease, in part because exhaustive testing found no other cause. They believe his experience may hold scientific lessons about anthrax, which experts consider the likeliest weapon in future bioterrorist attacks.

"I think we can still learn something from Bill's case," said Dr. Gary J. Kerkvliet, an internist at Sinai who has cared for Mr. Paliscak since 2001. Dr. Kerkvliet says he fears the C.D.C. "has its head in the sand." A colleague, Dr. Tyler C. Cymet, who spent months talking to the confirmed anthrax survivors and their doctors, said, "I come down strongly on the side that this is anthrax." Few diseases cause "whole-body symptoms" as does the toxin produced by anthrax, said Dr. Cymet, who, like Dr. Kerkvliet, is an assistant professor at the Johns Hopkins medical school.

The variety of symptoms Mr. Paliscak suffers would be enough for a hospital ward full of patients. His limbs swell with fluid, pushing his previous weight of 185 pounds as high as 310. His hormone-producing glands have shut down, setting off a cascade of secondary effects.

He experiences spells of overwhelming fatigue that can last for several days. His legs regularly are gripped by painful convulsions, the thigh muscles shaking as he struggles to hold them still.

But C.D.C. officials, who declined to discuss Mr. Paliscak's case, say they cannot bend diagnostic criteria. "Case confirmation is based on laboratory results and is an essential starting point in any public health investigation and for medical treatment," the agency said in a statement.People who knew the muscular ex-marine say they hardly recognize him now. "He was in tip-top shape," said Patrick T. Carroll of Quakertown, Pa., a former hockey teammate who was best man at Bill and Allison Paliscak's 1996 wedding. "He was the kind of guy who could skate the whole game."

Now, Mr. Carroll said, his friend is "a totally different person." At Mr. Paliscak's mother's funeral in 2003, "when they wheeled him in, my wife just lost it."

"I probably wouldn't have known him," Mr. Carroll continued.

One key to the mystery may be the paucity of data on the inhalational form of anthrax. "Historically, there haven't been a lot of survivors to study," said Dr. Philip S. Brachman, who studied five cases at a New Hampshire mill in 1957 - the largest cluster in the United States before 2001.

Before the anthrax letters, of the 18 cases of inhalational anthrax diagnosed in Americans during the previous century, 16 were fatal, he said.

Anthrax remains largely an animal disease, with cattle or other mammals periodically infected by inhaling spores that can lie dormant for a century in soil. This very hardiness attracted biowarriors of a half dozen countries in the 20th century, who made anthrax the core of their arsenals.

Whoever mailed anthrax-laced letters in Princeton, N.J., on Sept. 18 and Oct. 9, 2001 - the case is still unsolved - proved its effectiveness as a killer and contaminant.

Two postal workers at the Brentwood mail processing center in Washington, where Mr. Paliscak removed the filter, died of inhalational anthrax and two others survived it. The cost of cleaning up the billions of spores that leaked into the building from two letters addressed to Democratic senators exceeded $100 million.

Even after gas had exterminated all the anthrax spores, workers re-entered the cavernous structure in moon suits, just in case.

But in the first days after the letter to Senator Tom Daschle was discovered in October 2001, the drive to act outpaced officials' understanding of the exotic bug. As Mr. Paliscak gathered evidence around Delivery Bar Code Sorter No. 17, an anthrax hot spot, he wore only a hardware-store dust mask for protection.

Testing would show that the filter he removed was thick with anthrax spores. He got sick four days after exposure, the mean incubation time of the confirmed cases. Some of his symptoms, though not all, would resemble theirs. Like him, they have recovered slowly and incompletely, complaining of a bewildering variety of ailments.

"I feel a little better," said David R. Hose, 62, of Winchester, Va., who was infected at a State Department mailroom. "I think my stamina is a little better. But I'm still on seven kinds of medication."

Mr. Hose and the other official victims tested positive for anthrax. Mr. Paliscak did not. Studies have shown that a dose of antibiotics can kill the bacteria while still allowing the toxin to do its damage, and Mr. Paliscak took two antibiotic pills in the first couple of days after exposure. Yet other tests - one to look for anthrax DNA, another to find antibodies - also found nothing.

As Mr. Paliscak became deathly ill, cycling in and out of Sinai Hospital, his wife and friends from the Postal Inspection Service pursued a workers' compensation claim. After initially rebuffing the case, the Department of Labor ruled in May 2002 that while it could not justify a formal diagnosis of anthrax without a positive test, some major symptoms - inflammation of the heart and lungs - were caused by dust exposure at Brentwood.

The department eventually assigned a top manager to track the case. But medical bills went unpaid for months on end, creating havoc with the Paliscaks' credit and causing several medical facilities to temporarily suspend services.

Though a hospital administrator herself, Allison Paliscak found the effort to get treatment and payment for it daunting. "It's a maze that no one has any directions to get through," she said.

After Mr. Paliscak finally went home in late 2003, he spent more than six months taking sponge baths, because the only shower is on the second floor. The Department of Labor agreed to put in an elevator and chose contractors for the work. But after a shaft was opened and the house became virtually uninhabitable, the elevator contractor disappeared.

They were to spend two weeks in the Marriott Residence Inn during a $10,000 house renovation. They have been in the motel for a year, at a cost to workers' compensation of $30,000. One night Mr. Paliscak's pizza dinner was interrupted when a car crashed through the motel wall and into his room. He switched rooms.

Shelby Hallmark, director of the office of workers' compensation programs at the Department of Labor, acknowledged that computer problems fouled up bill payments and blamed an unscrupulous contractor for the elevator delay.

But he said the program had spent nearly $1 million in medical bills and direct payments on the case, even assigning a nurse to help coordinate Mr. Paliscak's therapy, transportation to appointments and home renovations.

Anthrax experts asked about Mr. Paliscak's illness had varying views. Dr. Brachman, of Emory University, said he would not rule out anthrax as a cause, despite the test findings. Dr. Ken Alibek, a former Soviet bioweapons expert now at George Mason University, was more skeptical. "You cannot make the diagnosis without laboratory confirmation," Dr. Alibek said.

Both wondered whether Mr. Paliscak's illness might be a devastating reaction to some other substance on the filter, such as yeast or mold spores. But Mr. Paliscak's doctors said they could find no evidence for that possibility.

Dr. Leonard A. Cole, a Rutgers University professor who reviewed Mr. Paliscak's case for his 2003 book, "The Anthrax Letters: A Medical Detective Story," said the C.D.C. should have at least labeled Mr. Paliscak a "suspect" case of anthrax.

"It's more than just an academic question," he said. "The bigger our base of knowledge about this disease, the better off we'll be."

Dr. Mary E. Wright of the National Institute of Allergy and Infectious Diseases is conducting a follow-up study on the anthrax victims and has included Mr. Paliscak in her research. But through a spokeswoman, she declined to comment on his case, saying she does not want to discuss her study until it is published.

Mr. Paliscak is tired of the debate about his illness and simply wants to get back to work. "I was one of those lucky people who really love what they do," he said.

Some of his colleagues in the Postal Inspection Service are still investigating the anthrax case, as the fourth anniversary of the attacks draws nearer. He would like nothing more, he said, than to rejoin the hunt for the person responsible for killing five people and sickening 17 others - or 18, if Mr. Paliscak and his doctors are right.

A year ago, Mr. Paliscak was honored by a law enforcement group and had a chance to talk with the speaker, Robert S. Mueller III, the director of the Federal Bureau of Investigation, whose agency has overseen the anthrax investigation.

"I told him I'd like to be well enough when we catch this guy to put the handcuffs on him," Mr. Paliscak said."



___________________________________________________________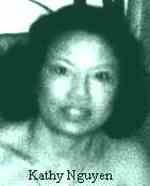 A Deadly End to a Deadly Season

Kathy Nguyen

On October 28, 2001, a 61-year-old Vietnamese hospital worker, Xinh Thi (Kathy) Nguyen, was taken to New York City's Lenox Hill Hospital's emergency room. She was complaining of shortness of breath, flu-like symptoms and coughing up blood-tinged mucus.



Initially doctors suspected that she had heart problems. When it was discovered that her heart was not the source of the problem, they thought she might have developed pneumonia. However, when x-rays were taken of Nguyen's chest, they discovered that she had a widened mediastinum, which was symptomatic of inhalation anthrax. Immediately, doctors put her on cipro, but it was too late.

According to Denise Grady's article Tracking the Disease, Nguyen's breathing deteriorated and her blood pressure dropped, despite treatment. Moreover, her lungs and the sac around her heart filled with fluid. Eventually, her organs failed and on the fourth day after she was admitted to the hospital, she succumbed to the illness. Just one day earlier doctors had confirmed that she had inhalation anthrax, but by that time treatment was already useless.

FBI investigators tried to determine how Nguyen had come into contact with the disease. It was assumed that she contracted it from an anthrax-laden letter, yet they were unable to find any evidence of such a letter or spores in her mail. An examination of her Freeman Street apartment in the Bronx and Manhattan Eye, Ear and Throat Hospital where she worked also failed to yield any evidence of anthrax.

By far, Nguyen's case was the most puzzling to investigators because her illness had not been directly linked with mail like the previous cases. In fact, according to an article by Kevin McCoy and Charisse Jones, exactly how she "came into contact with the lethal spores had baffled scores of detectives, scientists and public health experts." To date, the source of her infection remains unknown.



Ottilie Lundgren


Approximately two weeks later, FBI investigators were baffled by another case that occurred in Connecticut. On November 16, 94-year-old Oxford resident Ottilie W. Lundgren was admitted to the hospital. She, like Nguyen, exhibited pneumonia-like symptoms. For days, doctors fought to keep her alive while they looked for the precise cause of her illness. On November 20, clinical tests determined that Lundgren had inhalation anthrax. By then it was too late; the following day she died from the disease.

Initially, investigators did not know how she could have contracted the disease. Then they realized that it was likely that she handled mail that was cross-contaminated by either the Daschle or Leahy letters, which had probably passed through the Trenton, New Jerseypostal facility on its way to the postal processing center in Wallingford, Connecticut, where her mail was also processed. Although there was no anthrax spores found at Lundgren's home, there were some found at the Wallingford postal facility, which later resulted in the site being closed down temporarily for decontamination.

Mrs. Lundgren was the last known victim of the 2001 anthrax outbreak. By the end of the year there were a total of twenty-two incidences of anthrax poisoning, of which nineteen cases had been confirmed and three cases suspected. However, no one had yet been charged with the distribution of anthrax-laden letters and the culprit's identity continued to elude investigators. Yet, in the summer of 2002 investigators claimed that they identified a "person of interest" possibly related to the anthrax poisonings. The person was Steven Hatfill.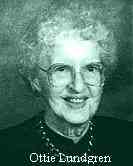 Memorial service held as death of anthrax victim still unexplained

OXFORD, Conn. -- Less than a day after investigators swabbed Immanuel Lutheran Church for any signs of anthrax, about 250 people gathered there Saturday to remember the 94-year-old woman who is the nation's fifth anthrax victim.
Ottilie Lundgren was described by friends and family as a loving woman who took joy in collecting owl knickknacks -- her initials were O.W.L. -- and had an occasional Manhattan with dinner.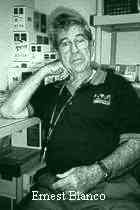 Ernesto Blanco, survivor of inhalation anthrax who worked at American Media, I
Oct. 7: At 7 p.m. the CDC notifies AMI that they intend to seal the building because test samples have shown anthrax spores on Stevens' computer keyboard and in the nasal passages of Ernesto Blanco, an AMI employee who delivered mail to other workers there.

Oct. 8: In Miami, the family of Ernesto Blanco is notified that Blanco has tested positive for anthrax exposure. He has no symptoms of anthrax infection. Employees of AMI line up at the Delray Health Center to be tested and to receive a two-week supply of antibiotics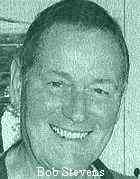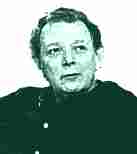 Dr Ayaad Assaad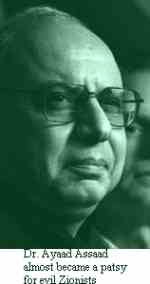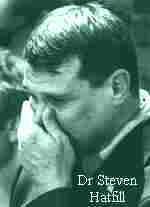 STATEMENT OF THOMAS G. CONNOLLY*

ATTORNEY FOR DR. STEVEN J. HATFILL

August 26, 2003My name is Tom Connolly. With me today is Nick Bravin. We represent Dr. Steven Hatfill, whom many of you already know as the man Attorney General John Ashcroft dubbed a "person of interest" in the government's investigation of the anthrax mailings in the fall of 2001. For more than a year now, Dr. Hatfill has been questioned, searched, bugged, and tailed by the FBI. Dr. Hatfill had nothing to do with the horrific anthrax attacks. No evidence links Dr. Hatfill to the crime, yet the Attorney General and a number of his subordinates have attempted to make him the scapegoat. In the process they have trampled Dr. Hatfill's constitutional rights and destroyed his life.

Today Dr. Hatfill filed a civil complaint in the United States District Court for the District of Columbia against the Attorney General of the United States and other government officials for their blatant violations of Dr. Hatfill's constitutional rights. The complaint details what Dr. Hatfill has endured. He has had his home searched on national television – twice. He has been followed twenty-four hours a day, seven days a week, for months on end. He has been fired from his job, at the direction of the Department of Justice, and his future job prospects have been destroyed. And he has been the target of a coordinated campaign to publicly implicate him in a crime he did not commit.

The Attorney General and his subordinates have taken Dr. Hatfill's life as he knew it; they have made him a prisoner in his own home. All this without any evidence linking Dr. Hatfill to the attacks and without bringing any formal charges against him.This is not the way our criminal justice system is supposed to work. With no signs the government plans to temper its Kafka-esque punishment, Dr. Hatfill has brought this lawsuit in an effort to vindicate his rights.

The complaint details not just what has happened to Dr. Hatfill but, how it has happened. A year after the anthrax attacks, the government's investigation had stalled. Around that time, the Attorney General and his subordinates decided that for their own personal and political interests it was essential to appear to know who committed these offenses. So, in violation of the very laws they are sworn to uphold, they embarked on a highly public campaign to accuse Dr. Hatfill without formally naming him a suspect orcharging him with any wrongdoing.

The public campaign against Dr. Hatfill began last summer when FBI and DOJ officials tipped off the press that they intended to search Dr. Hatfill's apartment. Never mind that Dr. Hatfill had consented to the search – as had many other scientists to aid the investigation – the FBI was orchestrating a media event broadcast live to a national audience. The government wanted to show an anxious nation that it was making progress in the anthrax investigation.
--------------------------------------------------------------------------------
Page 2
Once the FBI thrust Dr. Hatfill into the spotlight, the Attorney General joined in. Last summer, Mr. Ashcroft publicly and repeatedly identified Dr. Hatfill as a "person ofinterest" in the anthrax investigation. He used this phrase, which everyone understood as a euphemism for "the person the government believes is responsible for the offense," to suggest to the public that real progress was being made in the case and that Dr. Hatfill was the culprit.

No previous Attorney General has used that phrase to smear an American citizen, perhaps because responsible law enforcement officials have long understood that publicly implicating a private citizen in a horrendous crime, instead of bringing charges in a court of law, would violate their legal and ethical duties.

Having ruined Dr. Hatfill's reputation, DOJ went even further – they had himfired from his teaching job at Louisiana State University. Without producing any evidence against him, without officially naming him a suspect, and without giving him an opportunity to hear and respond to charges against him, DOJ officials instructed LSU to terminate Dr. Hatfill. This action was also unprecedented.

Having rendered him unemployed, government officials then rendered him unemployable by continuing an aggressive campaign to link Dr. Hatfill's name and face to the anthrax attacks. These officials did so despite the fact that they knew there was no evidence that would stand up in a court of law, and despite the fact that DOJ and FBI rules expressly prohibit such public condemnations.

This civil complaint filed today should not have been necessary. For months, Dr. Hatfill has lodged formal and informal protests with the Department of Justice, seeking to stop the campaign that has ruined his reputation, cost him his livelihood, and shattered his personal and professional life. Those protests have fallen on deaf ears. Dr. Hatfill has also asked the Department of Justice and Mr. Ashcroft himself to step in and remedy his firing.

It has become clear, however, that the Department of Justice will not remedy this problem because the Department of Justice is the problem. If the violations of Dr. Hatfill's rights were merely the result of overzealous detective work, we might not be here today. But, as the constitutional violations pile upand the abuses continue – and as it becomes clear that there will be no corrective measures taken by the Attorney General or anyone else in the Department of Justice – the only reasonable conclusion is that the misconduct is intentional. And given that it is intentional, then it is difficult to imagine any circumstances under which the investigators would turn their focus away from destroying Dr. Hatfill's life and back to the task ofinvestigating other leads. Unless and until a court steps in and vindicates Dr. Hatfill'sconstitutional rights, protecting him from further government misconduct, Steven Hatfill will never be free.


Dr. Hatfill deserves to get his life back, and the American public deserves a real investigation. This lawsuit is not just about Steven Hatfill. It is about the enormous power government officials have over the lives of ordinary Americans, and the potential for abuse of that power. Steven Hatfill is innocent of any involvement in the anthrax attacks. He is innocent both in fact and in the eyes of the law. Every citizen should therefore read 2
--------------------------------------------------------------------------------
Page 3
this complaint with the clear understanding that whatever the government can legally do to Steven Hatfill, it can legally do to any of us. His rights are no different from our rights; his liberty is no different from our liberty. If, in this case, the Attorney General and his subordinates are permitted to sacrifice constitutional principles to politicalexpedience, then it is not only Dr. Hatfill who would be less free; we would all be lessfree.

Dr. Hatfill looks forward to the opportunity to bring these abuses to light in the open forum of a public courtroom, before an impartial judge, subject to the rule of law.*Thomas G. Connolly is a partner with the law firm of Harris, Wiltshire & Grannis LLP and the head of the firm's litigation practice. Prior to joining the firm, Mr. Connolly worked for the Department of Justice for 10 years, serving as an Assistant United States Attorney in both the Eastern District of Virginia and the District of Columbia. 3
Dr. Kenneth Berry

Looking Back: The story after the story
Doctor in anthrax case is left with broken pieces of a life
By BARBARA O'BRIEN
News Southtowns Bureau
4/18/2005


Dr. Kenneth Berry hasn't been linked to any crime.

The former Wellsville physician whose homes were searched in connection with the anthrax killings has visited Wellsville recently, and is living on unemployment in New Jersey, according to a friend.
"Who's going to hire him?" asked the friend, the Rev. Richard "Pastor Dick" Helms of Wellsville.

Dr. Kenneth M. Berry lost his job as an emergency room doctor at the University of Pittsburgh Medical Center in McKeesport, Pa., last year after his name surfaced in the anthrax investigation.

His home on East Pearl Street in Wellsville and a home in New Jersey were searched by agents from the FBI and the U.S. Postal Service on Aug. 5. The searches were part of the investigation into a series of anthrax terrorism incidents that killed five people and caused serious illnesses to 17 others in September and October 2001.

Local officials said last summer that federal authorities told them they were searching the Wellsville house for trace evidence of anthrax.

Berry, who was never charged in the anthrax case, is "still plugging away," Helms said. He said he was in Wellsville several weeks ago for Family Court proceedings, Helms said. Berry is estranged from his wife and reportedly is seeking to see his 4-year-old son.

"It's not a good situation," Helms said.

Berry was sentenced to two years' probation and ordered to pay a $1,000 fine after he attacked his wife and stepdaughter in New Jersey on the day the homes were being searched. Helms said Berry, who was allowed to keep his medical license, has filed an appeal in that case.

Helms, who said he talks with Berry fairly regularly, said the FBI has all but acknowledged that Berry is "pretty much cleared" and is not a suspect in the anthrax case.

"They won't say it publicly," Helms said. "If they tell you, we'll be so happy."

But the FBI is not commenting on Berry.

"The anthrax is an ongoing investigation. The FBI is enjoined from commenting on it," said Joe Parris, supervising special agent.

Helms thinks that the FBI will not clear Berry because of the Richard Jewell case.

"As soon as they do, they're liable," Helms said.

Jewell was named by the FBI as a suspect in the Olympic Park bombing in Atlanta in 1996 that killed a woman and wounded 111 people. The FBI later said he was not a suspect, and Eric R. Rudolph pleaded guilty last week to the Atlanta bombing.

Berry is the founder of an organization called PREEMPT, which has crusaded for more vaccinations against anthrax and better medical preparation for terrorist attacks on America.


e-mail: bobrien@buffnews.com

http://www.buffalonews.com/editorial/20050418/1068934.asp







"The attention of the FBI is not all that Berry shares in common with Hatfill. They have foreign medical degrees, an evangelism for

bioterror preparedness, and a flair for self-promotion and even

hyperbole in their quests to become bio- defenders for the country."


August 06, 2004
More on the developing anthrax investigation. Today the FBI

searched homes belonging to MD and bioterror expert Dr. Kenneth

Berry in upstate New York and New Jersey. I've written about it

below.

What strikes me is, nothing in his biography suggests Berry had the

skills, expertise or experience to make or process the anthrax in the

letters.

A couple interesting points from his biography however.

In 1997, Berry drew up this scenario of an anthrax attack on San

Francisco for use at a bioterror preparedness conference his

organization, Preempt, held. It's interesting, involving as it does

anthrax threats called into news organizations. But it's worth

remembering, this is the type of exercise national security types use

all the time to plan response.

At 07:30AM this date, a group known as "The Friends of Yousef" (a

group supported by the HAMAS Terrorist Organization) called in a

threat to CNN's San Francisco Bureau. The group informed the

network that they are prepared to make multiple airborne releases

of a large quantity of an "allegedly" new strain of anthrax. The

medical community believes that the new strain is resistant to many

antibiotics. The terrorist group stated that the anthrax release is set

to occur over many areas of San Francisco if their demands are not

met. The faction's demands are $500 million in U.S. gold bullion and

the release of Ramzi Yousef and his two co-conspirators from prison

within 48 hours or the anthrax releases will occur immediately

following that deadline.

The initial call was taken at the news station and transferred

immediately to the CNN Bureau Chief, who taped the call and

informed the authorities.

Reliable sources indicate that a small group of scientists from

Eastern Europe and Central Asia have formed liasons with the

HAMAS, a radical Islamic extremist organization that calls for the

eradication of Israel. It is reported that this group of scientists has

developed this bio-agent for the terrorist market . . .


Here's the whole scenario.

A second interesting thing: On September 25 and September 28,

2001, Berry applied for two patents for bioterror detection and

defense systems. That was a few days after the first batch of

anthrax letters were sent to news organizations.

Key Point: Here's an educated guess. The person who made the

anthrax is not the same person who mailed the anthrax letters. It

was carried out as some sort of pact between two or more

"bioevangelists" who believed the US needed to be woken up to the

bioterror threat.

UPDATE: This from the New Jersey Star Ledger today has more

interesting:

Neighbors said Berry took his family to breakfast at the nearby

Sand Dollar Pancake House as the [FBI] search proceeded.

Later in the afternoon, Berry was arrested at a motel in Point

Pleasant Beach following a domestic dispute in which the doctor

allegedly assaulted four family members, police said. He was

released on $10,000 bail last night from the Ocean County jail, a jail

spokesman told the Associated Press.

In Chadwick, agents removed garbage bags filled with bulky

contents from the bungalow, according to a neighbor. Authorities

also removed boxes with clear plastic bags in them . . .

Berry's father, in an interview late last night at his home in

Newtown, Conn., said the FBI was making his son a scapegoat for a

botched investigation.

"Hey, here's a guy being shafted by the FBI," said William C. Berry,

a retired financial director who now serves as president of

PREEMPT. "It's just buying time because they have nothing on

anthrax. You are looking at a setup."

Point Pleasant Beach police said last night that officers responding

to a 911 call at the White Sands Motel discovered Berry being

detained by an off-duty police officer and a motel employee.

Berry allegedly assaulted four family members, police said. His

relationship to the four was not immediately known.

Five persons died and at least 17 were sickened after anthrax- laced

letters, postmarked Sept. 18 and Oct. 9, 2001, were sent to two

Democratic senators and media organizations. The letters were

processed at a postal center in Hamilton Township -- finally

reopened this year after a costly decontamination -- and may have

been sent from a mailbox in Princeton. The attacks prompted the

closure of many government buildings and rocked a nation still

reeling from the 9/11 terror strikes.

Over recent weeks, authorities have appeared to ramp up their

efforts to crack what ranks among the most frustrating cases in FBI

history.

For several days last month, they shut down labs at the U.S. Army

Medical Research Institute of Infectious Diseases at Fort Detrick.

They have reinterviewed former researchers from the Frederick,

Md., base and even drained a nearby pond looking for discarded lab

equipment.

Federal agents have logged more than 270,000 hours on the case,

conducting more than 5,279 interviews, according to Weierman.

Thirty FBI agents and 13 postal inspectors continue to hunt for

clues.

Most attention so far has focused on another medical doctor, Steven

J. Hatfill, described as "a person of interest" by Attorney General

John Ashcroft but never charged.

From 1997 to 1999, Hatfill worked at Fort Detrick, the Army center

that originally housed the anthrax strain sent in 2001. He has

proclaimed his innocence and is suing the government and the New

York Times.

Neither Hatfill nor Berry could be reached for comment yesterday.

Berry's Web site says he presented a bioterrorism paper at Fort

Detrick in January 1997, and, according to Berry's father, the two

men know each other.

The father described Berry as exhausted and upset. He said his son

has been interviewed before by the FBI because of his counterterror

expertise.

"They have been on him for three years. They have no leads,"

William Berry said from his farmhouse, near Danbury.

Kenneth Berry, a father of seven who has been married twice, now

teaches emergency room skills at a hospital affiliated with the

University of Pittsburgh, his father said. Born in Teaneck, Kenneth

Berry moved with his family to Switzerland at age 5. They returned

to New Jersey, living in Wayne, and then moved to Connecticut.

The attention of the FBI is not all that Berry shares in common with

Hatfill. They have foreign medical degrees, an evangelism for

bioterror preparedness, and a flair for self-promotion and even

hyperbole in their quests to become bio- defenders for the country.

Years before 2001, each man gave extensive interviews warning

how bioterror attacks might be attempted, and how to thwart them .

. .

Berry's Web site also cites forensics experience that included the

crash investigation of TWA Flight 800 in 1996. That was questioned

yesterday by a spokeswoman for James Kallstrom, the former FBI

official who headed the crash probe.

"He had nothing to do with it," Vicky Loughman, Kallstrom's

spokeswoman, said of Berry.

Licensed as a physician in New York state, Berry lists a 1983

medical degree from the American University of the Caribbean

School of Medicine. Three years ago he quit as director of

emergency medicine at the Jones Memorial Hospital in Wellsville

after a scandal.

Berry and two others were charged in 1999 with forging the will of a

fellow doctor who had died of a heart attack the year before. The

common-law wife of the deceased doctor eventually was sentenced

to five years in prison on forgery charges. Berry pleaded guilty in

May 2000 to a disorderly conduct charge and paid $300 in fines and

court fees . . .

The forgery episode did not derail Berry's counterterrorism efforts.

According to his Web site, he spoke at a June conference in Sweden,

advocating a network of air sensors to alert the population to

bioterrorism agents and filtration systems in federal buildings such

as the White House and CIA headquarters.




Posted by Laura at August 6, 2004 08:30 AM


http://www.warandpiece.com/blogdirs/001012.html